Completely
Free Online Dating
Dating In Indianapolis. Free Dating Site to Chat & Meet Singles
TONS OF SINGLES
639,302 new members per month
IT'S FREE!
Message anyone, anytime, always free.
SAFE & SECURE
We strictly monitor all profiles & you can block anyone you don't want to talk to.
IT'S QUICK!
Sign up and find matches within minutes.
Over 30,000 5 Star Reviews
Get the App!!!
Dating in Indianapolis is such a great experience for singles who want to get out of loneliness. Love is in the air, no matter how far we go!
Are you looking for a cool guy or a gentleman? Do hot ladies and dynamic men make it unable to take your eyes off?
Well, it doesn't matter what your answers are, love someone who you desire because you deserve it! Most people now are fed up with love, not because they want to be lonely, but the fear of being hurt once again keeps them hiring from the world. Are you one of them? Come on! Be brave to change your mind!
Love is for anyone in this life, and you are not an exception! Imagine there is a person who is always willing to take care of you, listen to you and share with you any moment, it's priceless, right? It's time for you to start a serious relationship with someone!
Wait, you don't know where to begin? Don't worry, Mingle2, our best free dating site, is always here to help you!
Join us and enjoy it right now!
Mingle2: The Supportive and Nurturing Environment for Exploring Online Dating in Indiana
Mingle2 serves as an ideal platform for both online dating newcomers and experienced users seeking connections with singles in Indiana. Boasting a dynamic community, Mingle2 prioritizes inclusivity and diversity, creating a supportive, nurturing environment for individuals eager to explore the Indiana online dating scene. The welcoming atmosphere encourages users to confidently embark on their journey to find love and meaningful connections.
Connect with Ease: Examples of Starting a Conversation on Dating Platforms
Initiating a conversation on a dating site might seem challenging, but it need not be. Here are a few examples of how to begin a conversation:

Offer a compliment: Everyone appreciates being complimented. Kick off your message by highlighting an intriguing or appealing aspect of the person's profile, such as, "I'm impressed by your taste in music, particularly your fondness for classic rock!"

Pose a question: Inquiring about something is an excellent means of demonstrating interest and sparking a conversation. Consider simple questions like, "What do you enjoy doing in your leisure time?" or more specific ones, such as, "What's your go-to hiking spot in the region?"

Discuss a shared interest: If you identify a mutual interest, mention it in your message, for example, "I noticed we both have a passion for cooking. What's your signature dish?"
Crack a joke: Employing humor is a fantastic way to ease tension and showcase your fun side. Ensure your joke is suitable and inoffensive, like, "I know a terrible pizza joke, but it's a bit cheesy."

Reference something captivating from their profile: If you spot something on their profile that grabs your attention, incorporate it into your message. For example, "I noticed you're an avid hiker. Have you tackled any demanding trails lately?"

Make sure to keep your message lighthearted and engaging, and don't hesitate to let your personality shine. By following these suggestions, you'll be well on your way to initiating a conversation that could lead to a fantastic connection.
Where can I meet singles in Indianapolis?
Indianapolis is widely recognized for its Midwestern charm, and it's no wonder that the people of Indianapolis are among the friendliest you'll ever encounter. However, Circle City is regarded as one of the worst places in the country for singles when dating. Don't worry if you're single and live in Indianapolis! This definitive guide to navigating the city's single scene is here to help.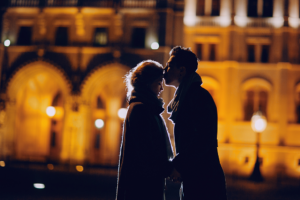 Breaking down the statistics
According to a recent WalletHub poll, Indianapolis was ranked 104th out of 182 U.S. cities for singles. While this grade isn't excellent, it's also closer to the middle, indicating that the dating environment in this Midwestern city is rather ordinary. According to the same poll, 45 percent of U.S. people are now single, so Indianapolis is entire with singles should not be disheartening. It simply implies that you must know where to seek to meet your dream partner.
As a result, we've prepared a list of some of the finest locations to meet singles in Indianapolis. In this post, we'll look at what you need to do, where you need to go, and even which dating sites you should be on.
Are you ready to slay your single status? Let's get started!
Nightclubs in Indianapolis
Nightclubs are an excellent location to meet new people. It's time to hit the dance floor after a few beers. Then, when someone catches your attention, get closer to them before you may dance with them. After that, there's a good possibility you'll kiss, converse, and exchange phone numbers. The Red Room and Blu are the top two nightclubs in Indianapolis for singles.
Bars in Indianapolis
Not sure you want to meet your soul mate on a slick dance floor? Bars are the ideal alternative for people who need some peace of mind and only want one or two drinks to get to meet someone new. There are plenty of fantastic pubs in Indianapolis, but which are the finest bars in Indianapolis for singles? Some of the best pubs for singles in Indianapolis include 1933 Lounge , Chatterbox, and Bakersfield.
Concerts or Stand-up Comedy Shows Are Especially Some of the Best Places to Meet
Singles
in Indianapolis
Do you enjoy live music? Do you enjoy making others laugh? If this is the case, you should get out more because they are fantastic places to meet new people. The nice thing about concerts is that you can attend them on your own. There is nothing that can stop you as long as you love music! The next best thing about going to a concert is that if you catch someone's eye, you've got an immediate conversation starter: "How are you loving it so far?"
Best ways to meet Indy
singles
online
Do you find it challenging to go out to clubs and pubs with the express purpose of meeting someone new? Maybe you'd instead profile individuals first. Or perhaps you'd want to narrow your search to meet more Jewish signals in Indianapolis or even Catholic singles in Indianapolis? That's perfectly OK, and dating sites enable you to do that. However, if you're serious about smashing your single status and meeting like-minded Indianapolis singles, you'll need to upgrade to a premium site.
New in town? No problem. Create a new account on Mingle2 free dating site today and meet your date!
.
Dating In Indianapolis At Mingle2 Site, Where True Love Begins
Online dating is getting more and more popular, have you wondered the reason why? Actually, most users at Mingle2 claim that joining Dating in Indianapolis site brings them the best matchmaking ever! Do you find it unbelievable? Nevermind, we will show you how this dating site creates your fascinating moments:
✨ Widely used: Accessed by millions of users in Indianapolis, the Mingle2 dating site is a wide love network for you to explore! Believe us, your missing piece for a memorable dating in Indianapolis is waiting for your participation!
✨ Swift response: What to do for perfect online dating? It's much simple than you imagine, I am sure! Login to the dating site, enter the chatroom, leave a love message, the right-off-the-bat reply of your soulmate will satisfy you!
✨ Quick and easy access: Your daily work makes you under pressure? There is no time left for you to prepare for a meeting? Let us make it simple! Join our Dating in Indianapolis site, all you need to do is just create an impressive personal, choose a good-looking photo and then enter the chatroom to find out your future lover!
✨ Quick to date: Among millions of users, how magically if someone finds out you as their matching partner! Our pride is to connect people's hearts, then bring them long-lasting friendships, datings, or even happy marriages!
✨ Long-term relationship: As the best matchmaker, the Mingle2 dating site gives its users promised relationships! No more impractical love, no more one-night stands, cool guys, and hot ladies in the city of paradise, Indianapolis, will exceed your expectations!
Believe us, our Mingle2 site is always by your side to encourage you to look for your true love with all our devotion! As long as you need it, we will always be ready to take you to your lover!
Let Love Find You!
You are still waiting for perfect love? We are sorry but life is too short for you to do so! Among millions of people in Indianapolis, we understand you may think it extremely difficult to meet a person whose love belongs to you!
But don't give up! Stop trying too hard if you think it is out of the question. Take it easy! We will let love find you instead, why not? It doesn't matter if you are busy all the time and you have no time to have a date. It's not your fault if you are contributing to your future!
We, with deep sympathy for your problem, never get tired of creating chances for you to meet the missing piece of your heart!
Whoever you are, you deserve true love! Your soulmate can't stand waiting for you anymore, don't hesitate to take part in Dating in Indianapolis and share your own story, right now!