Love is in the air…. so is a virus! The past few months have showed everyone alternative ways to do things. So goes for dating! It's impossible to go on an actual date during Quarantine. Fret not, we have a solution!
In this article, we break down 7 Cute Date Ideas During Quarantine: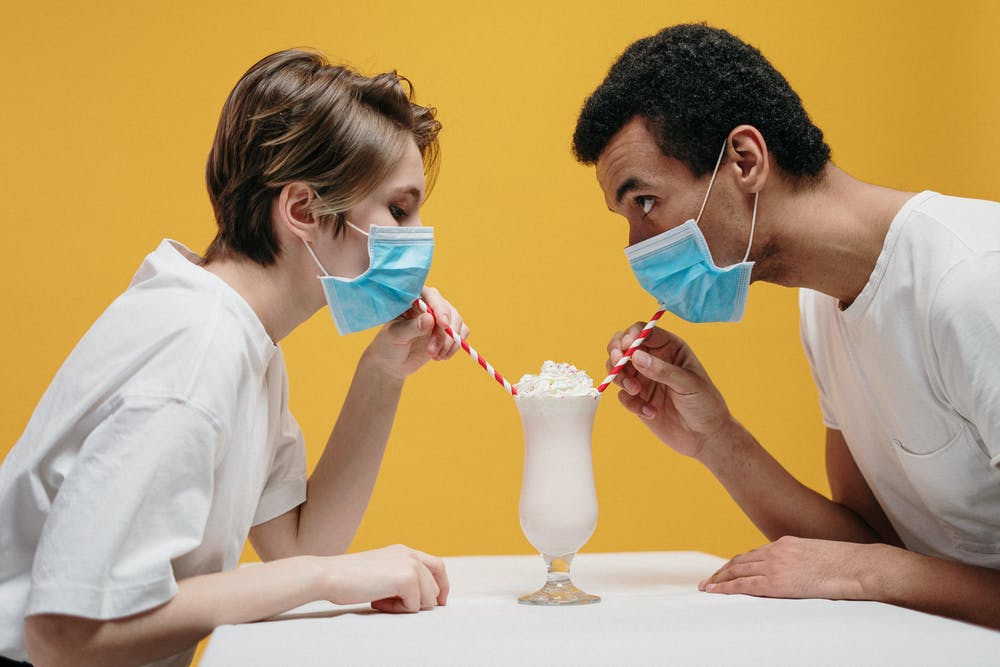 Playing 21 Questions:
It may seem silly at first, but 21 Questions is actually a great way to bond, no matter how long you've known each other. It's helped me narrow down a lot of potentials SO's off of dating sites. The game goes like this. You think of something, and the other person gets 21 questions to figure out what you're thinking. It's like Pictionary without the picture part. If you're especially brave, you can go ahead and ask each other 21 intimate questions. This is a great way to get to know somebody and get inside their head a little. 
Now, what's great about this game is that it has no restrictions if you're a text over call person, iMessage. So maybe you found someone on a dating site, this is the game to play. If you're a video call person, Facetime! At the end of the day, it's gonna help you bond, and that's what dates are all about. 
Have Some Fun With The Netflix Party Extension:
Watching a movie with someone you love, is just another kind of relaxation. One that you don't normally get watching things alone. A great way to boost intimacy with you SO is Netflix and Chill but 6 feet apart! The Netflix Party Extension is a browser extension that syncs playback. It even has a chat feature! So when you can't walk into a theatre, try this. Granted, it isn't the same thing as chilling on your sofa, all cuddled up, it's at least something. Try watching a known bad movie. Giggling at the corny jokes, laughing at cringey dialogues can be very relaxing. Also, avoid horror movies because when the movie ends, you'll still be all alone in your house, and that is not a good idea. This can also be a great way to spend some virtual time together with someone you met on one of those dating sites. 
Cook A Romantic Dinner:
If you're a live-in couple, chances are either you've been living off take-out, or one of you has been doing the cooking. In that case, opening up your kitchen to your SO can be a big deal! Food is intimate, cooking together can be a lot of fun. One of you can make the main dish while the other prepares the starter or maybe set the table. This makes cooking easier and also an experience for both you and your SO.
If you don't live together or just started talking to them on an online dating site, don't sweat it. Give this a try to make things run smoother. Making the same meal over Zoom or Facetime is definitely weird, but it's worth it, trust me! Send the recipe over beforehand to make sure that your partner can get the ingredients. Prep and cook over Facetime. This seems absurd, but it can get fun. If you're talking to someone, you met on a dating site, and aren't comfortable with them coming over. You could order food for each other from the same menu.
Clean The Apartment Together:

It may not seem like the best idea at first glance, but it will do wonders. Having something to do in this quarantine gives you a sense of purpose. Dedicating a time slot to do something can help feel "normal." There's always something pending, dishes in the sink, dust on the cupboard – you get the gist. A cleaner house will also make for a better environment to hang out in. On the plus side, once you're done, you've got a lot less stress. Cleaning your house together can give you both something to do, by the end of it you'll be proud of yourself. Even small things will feel much better after you have a sense of achievement.



Have A Spa Night:

Light up some scented candles, put on some relaxing music, pull out the face masks, and get at it. At our age, it is super easy to recreate the spa experience at home. If you don't have the products at home, a quick trip to Walmart and you're gonna be good to go. Close your eyes, cover em with your cucumbers, and give yourself a break.
A good way to spice things up is by treating each other. Get your partner to give you a good ol' face scrub and apply a face mask. It is super intimate and the perfect time to communicate your needs. Consider this time they spend on you a gift, it's a lovely thought, not found very easily these days. 
Board Game Tournament:

Starting a board game tournament with a loved one can be a huge deal! If you're up for the commitment and the potential fights, it can cause. Starting a game of Scrabble or Qwixx can be a quick get-away from your boring day-to-day life. If a game isn't enough for you, do a best of 3. If you're looking for something more time-consuming. Do you dare start a game of Monopoly? It's a 3-hour commitment at the least, not to mention the fights. If you've recently met someone on a dating site and want to do this with them. Try the digital alternatives. Download the games from the App Store and invite your partners. Invite another couple over Zoom, make it a double date.
Karaoke:

 
Karaoke can be a great way to blow off steam. Try it with your SO, Import a playlist off of Spotify or Apple Music, and try singing your hearts out to the songs you love! If you've got a lot of time on your hands, you can make your own playlist from YouTube. Who knows, you might find a hidden talent or a dance party out of nowhere. 
Meeting someone on dating sites can be awkward at the start – try breaking the ice with some digital Karaoke. Choose any digital Karaoke service available and sing your hearts out. There's something about singing off-tune with your partner that gets the mood going.